A puppy with us costs

2000 Euro for private individuals

and we deliberately keep that price low so that people with a lower income can also qualify for a puppy whose parents have been tested for all possible hereditary abnormalities click here and have a beautiful healthy build with a longer nose and open nostrils. We ask

2500 Euro for breeders

because we sell worldwide and puppies from breeders in other countries are many times higher and if we need new blood ourselves, we pay the main price. Since we only breed with dogs that are in possession of an official worldwide recognized FCI pedigree and do not cross with other breeds (which unfortunately is done a lot in the Netherlands at the moment), therefore our expenses are very high but we do keep the breed pure.
Explanation costs:
To breed healthy, the costs are high. We do the health tests in Hungary, Finland and Germany and more and more health tests are added, which means that the costs are increasing. Also the purchase of new dogs for fresh blood costs a lot of money and if the dogs are not suitable for breeding after all the health tests then we have to relocate them and the purchase costs and the costs of health tests are all lost.
We breed with a female no later than 3 litters in her entire life, after which she is sterilized and then we start again with a new bitch that has passed all health tests.
We also go completely for natural deliveries but unfortunately that still does not always work with the French Bulldog and then it will be a caesarean section and that is not cheap and then you will just see that it has to be done at night or on the weekend, then the costs are much higher.
Dogs all need regular worming, vaccination, flea and tick treatment, etc.
If a puppy stays in the country where it was born, a puppy leaves at 7 weeks and then the puppy has only had 1 vaccination, is dewormed for up to 7 weeks, is chipped and receives a pedigree. On average, the puppies drink from the mother for the first 4 weeks so they only need to be fed for 3 weeks.
But with us the costs for the puppies are many times higher because they have to stay with us up to 15 weeks because they always go abroad (15 weeks is required by law before they are allowed to cross the border (some countries excepted). vaccinated for a year. That is 4 vaccinations including rabies. They are regularly dewormed and treated every 4 weeks against fleas and ticks on a natural basis. At 4 weeks old they switch to meat up to 8 weeks old then they switch to special chunks for Puppies are given special powder in the food until they leave for optimal lubrication and balanced growth of the joints and the skeleton, this is also on a natural basis. The puppies are also chipped and they receive an official worldwide recognized FCI export pedigree and a European passport (required by law if they go abroad) The other expenses are, vet examination, petrol costs, membership of the breed club, disinfectants d ie you use daily, power for the warming rugs that are on day and night, the washing machine that runs overtime and the associated wear, wear of rugs, wood pellets for the puddle / poo bin to make the puppies toilet-trained 2 bags per day, toys what you have to buy new with each litter, dog baskets that are broken by the puppy teeth must be replaced, chewing bones, space must be extra heated if you have puppies, slime suckers, fat beds for in the whelping box, too many to mention. Then I haven't even mentioned all the hours that go into it, which are priceless. But we do it with love! After all, we are 100% hobby breeders, so we do not have a breeding company and we can not deduct anything from the tax, so all costs are for our account.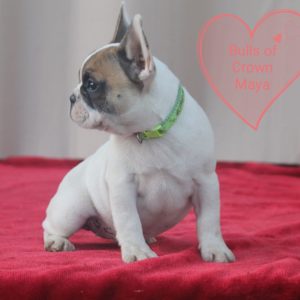 We sell the puppies for the same price of regardless of which country they go to! Breeding is and remains a hobby and we hope to make people happy with a healthy puppy from fully tested parents !!!
We breed at the latest 3 litters a year so that we can give them all the love, attention and good socialization what the puppy needs for the rest of his life.
We all sell the puppies for the same price regardless of male or female and to which country they go! Breeding is and will remain a hobby and we hope to make people happy with a healthy puppy from fully tested parents that is the best thing there is! However, we can never guarantee a 100% healthy puppy because it remains a living creature where nature and ancestors also play an important role!
We breed no more than 3 litters a year so that we can give them all the love, attention and good socialization that the puppy needs for the rest of his life.
Most of the puppies stay here until they are 15 weeks old (with the exception of some countries where they travel by plane if there is a companion, then 8 weeks old is allowed). That is legal!
The puppies are vaccinated 4 times (including rabies), regularly dewormed and get drops every 4 weeks against fleas and ticks, the latter is on a natural basis) The puppies are 100% house trained and are walking already neatly on a leash. They are also very well socialized, they are used to cars, trucks, tractors, mowers, horse and carriage, cats, other dogs (big and small), strange people and children. They love to cuddle and have very sweet affectionate characters.
Register with us on WhatsApp.The number is next to the WhatsApp logo (Click here) or fill in the contact form with a clear explanation about yourself (family) what you have to offer a puppy, experience, how long is the dog alone (we do not sell puppies to people who work full-time) so preferably as much information as possible, we can already get a lot out of that. Then we will contact you to make an appointment for a telephone conversation that is a bit more personal. We always answer back, so if you don't hear anything, the mail could also have ended up in the spam box. If you do not receive a message at all, something went wrong and we recommend that you contact us again.
More info read "Export pups"
Because already in the 12 years that we breed we have very high demands on the health of our French Bulldogs. We invested a lot of money (and continue to invest) in all possible health tests and importation of fresh blood. And because of our working method & breeding experience are the requests for puppies from our kennel are very popular.
That is why we work with waiting lists. Our puppies are sold in the order of the waiting list and we are happy to help you find out a puppy that suits you (gender, color, character, physique etc.)
Every litter we breed starts each time with a different letter, so you have to search for a name with the specified letter. We need the name of the puppy at latest when the puppies are 6 weeks old. This is in connection with requesting the pedigrees for the pups, which may take some time.
We breed only with FCI pedigrees that are recognized in all countries around the world.
FCI (recognized AKC)
We also only breed FCI approved colors! NO Unrecognized colors.
ATTENTION!!!!!!
If the puppies with 6 weeks old have been chosen by the new owners then we ask for a deposit of 400 Euro.
Only after the full payment of 400 Euro is your reservation definitive.
***There will no refund of the reservation fee***
There are exceptions:
1. When the breeder finds the puppy unsuitable for sale in terms of health.
2. Death of the puppy before he / she is handed over to the new owner.
For questions you can call us on telephone number:
Home: 0036-74-434089
Mobile: 0036-307919990
WhatsApp: 0036-307919990 (free calls)
Then we get to know each other better and that is important for both of us.
You can watch the puppies live when they are born, you will receive information about this.
With best regards,
Bulls or Crown kennel